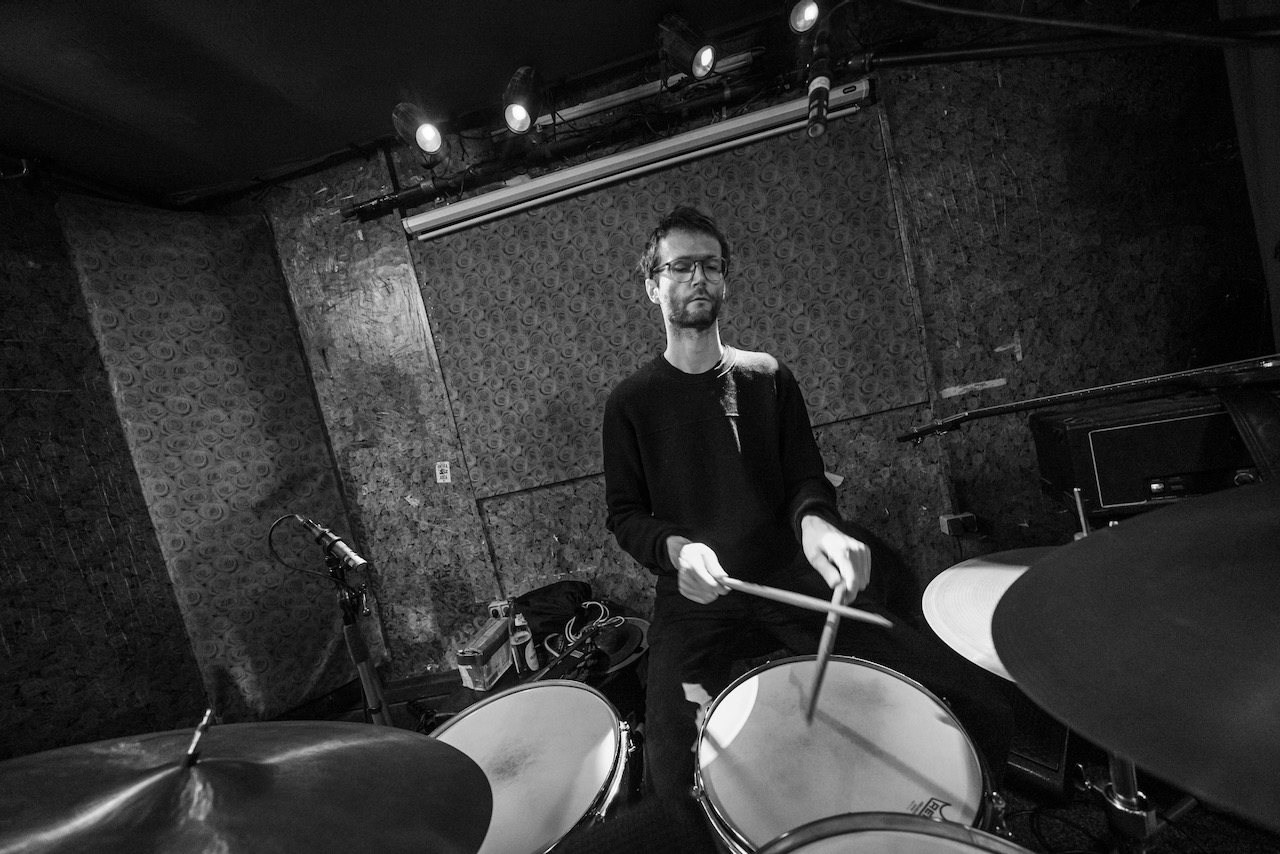 Photo: David Beecroft
en/de
Rudi Fischerlehner plays drums in various different musical projects that fall between improvised and experimental music, jazz and post-rock. He also composes and produces music for bands, film and performances.
Born in 1977 in Austria he was introduced to the drums in his childhood and received lessons on drum kit and classical percussion. As a teenager he starts to perform with bands in and around Linz, then moves to Vienna, travels to Africa and China, spends a few months in New York and now resides in Berlin.

He released two solo albums, Spectral Nichts and 15 8 Slum, and also plays or has played with Xenofox with Olaf Rupp, Der Dritte Stand with Matthias Müller and Matthias Bauer, Joke Lanz, Mia Dyberg, Zsolt Sőrés, Isambard Khroustaliov, Julie Sassoon, Fiium Shaarrk, Tonia Reeh in La Tourette, Tristan Honsinger, Matthias Schubert, Gorilla Mask, Erste Stufe Haifisch and many more.
Projects in which he features have been regularly invited to festivals and clubs internationally and featured on radio stations as Ö1, BBC Radio 3, SWR and Deutschlandfunk.
As a producer and composer for film soundtracks he contributed to movies by Ella Raidel, Johanna Kirsch and Katharina Lampert and was involved in the art, video or performance work of Alterazioni Video, Tarek Atoui (Berlin Biennale 8), Katrin Plavcak, Wilhelm Groener, Rainer Kohlberger and Haroon Mirza.

"He makes music as if he would produce chance."
Kristof Schreuf, Junge Welt
"Fischerlehner leaves no issue unattended as far as drumming is concerned, either underlining what his comrades do with conscious respectfulness or exploding into destructive bubbles of counter-rhythms and thump-and-bang punkiness when the going gets tough."
Massimo Ricci, Touching Extremes
Selected Festival Appearances
Alarme Festival Berlin, Kaleidophon Ulrichsberg, Jazzfestival Saalfelden, Blurred Edges Hamburg, REM Festival Bremen, Spontaneous Music Festival Poznan, Elbjazz Hamburg, Mama Jazz Vilnius, Transmediale Berlin, Berlin Biennale 8, Fusion Festival Lärz, Akut Festival Mainz, Soundance Festival Berlin, Freejazzfestival Saarbrücken, Rewire Den Hague, London Jazzfestival, Klangfestival Gallneukirchen, Jazzwerkstatt Peitz, Basics Festival Salzburg, Brechtfestival Augsburg, Tsuki Jazzfestival Aarhus, Approximation Festival Düsseldorf, Imaxina Sons Vigo, Vancouver Jazzfestival, Ottawa Jazzfestival, Edmonton Jazzfestival, MIB Festival Bremen, Moozak Festival Wien, Jazzjuice Aarhus, Jazzfestival Cheltenham, Lydfestival Aarhus, Contemporanea Udine, Moving Silence Athens, Jazz and More Sibiu, Belluard Bollwerk Fribourg, F-ire London, Jazzwerk Greiz, and many more.